Metrics Summit
ABSTRACT
The one-day seminar description below is the first day of GGI's three-day Metrics Summit.
Measuring Product Development II - Seminar History
GGI's renowned Measuring Product Development I [MPD I] Seminar was first developed in the mid 1990s and was attended by more than 5000 people across three continents. Measuring Product Development II [MPD II] was created in 2005 for second year students in the Masters of Engineering Management program at The Gordon Institute of Tufts University and simultaneously became part of GGI's Metrics Summit.
Measuring Product Development II - Seminar Prerequisites & Purpose
Practitioners are expected to have a basic understanding of R&D and Product Development metrics, and its associated measurement terminology across product development and R&D environments. The MPD II Seminar addresses a number of key areas that senior managers have to regularly deal with that are hard to quantify. The decisions that senior managers have to make in these areas are often emotionally-based. GGI's goal is to bring improved quantification and measurement information to these areas for the purpose of improving the quality of the decisions that have to be made.
The MPD II Seminar will begin with "leveling" topics. Practices of companies that span leaders to laggards can differ by as much as twenty years. To help assure that participants are ready to actively discuss the more complicated topics that are the MPD II Seminar, the day will begin with a timeline of the evolution of the management science of product development from the view of an industry leader [Figure].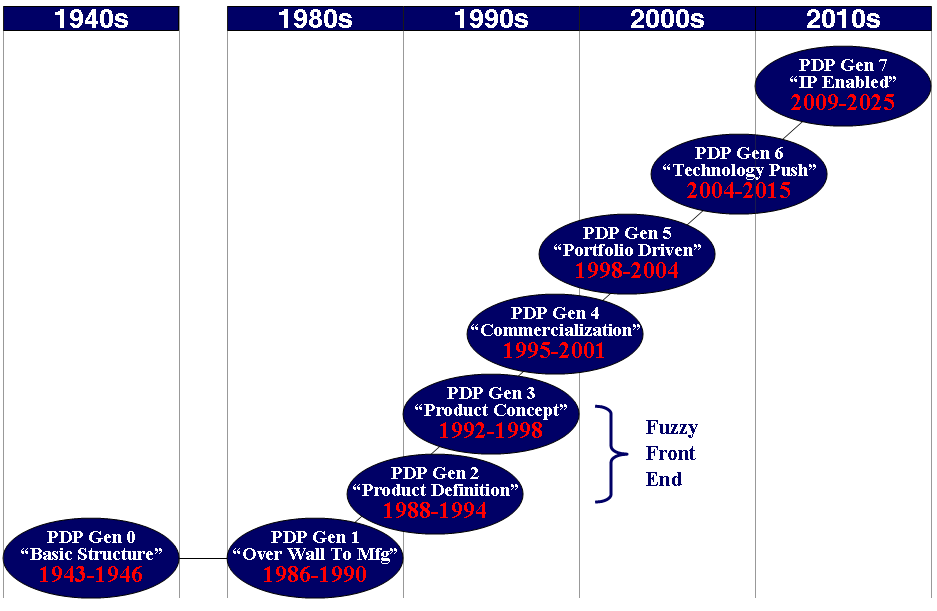 A number of specific topics which are known to be challenging in most companies, presented as modules, will then be addressed.
Measuring Product Development II - Seminar Modules
Pipeline & Capacity Management: How does one measure the throughput and yield in the product development pipeline? How much should a company "put in" to insure throughput meets the business goals for new products?
Hurdle Rates: How much revenue and profit should exist in a preliminary way for a company to decide to further investigate a product idea? How much revenue and profit should exist for the company to approve a product for development? How do these decisions change with the availability of additional capacity, or outsourcing? How do the hurdle rates change as a company grows in size?
Trade-Off Analysis: How does one prioritize between getting to market, maximizing gross margin, staying within budget, and/or offering every feature identified in the product requirements document?
Break-Even Time & Time-To-Profit: What is the difference between these measures? How does behavior change when one or the other is used?
Risk & Complexity: Are these two variables the same, or different? What are the components of each? When does it make sense to go to this level of detail?
Planning, Proactive, & Predictive Metrics: What are these types of metrics? How many of these should exist in a balanced set of R&D metrics? [This subject will be the total focus of Day 2 of the Metrics Summit.]
Number Of Metrics: How many metrics do corporations use? How many metrics do R&D organizations use? What percentage of companies have defined their "set of metrics" versus companies where "metrics bubble up" in a more ad hoc fashion? What is the degree of linkage between R&D's metrics and the overall metrics used by a company? Does R&D get a bigger share of the corporate pie than its budget or number of personnel would imply when contrasted to other departments and organizations in a company?
Measuring Product Development II - Seminar Conclusion
The seminar will conclude with a discussion of a practical framework in which to develop a set of metrics to measure the R&D organization as a whole. Methods will be offered that enable practitioners to "roll-up" project and functional measures so that they are useful overall measures of organization capability and productivity. This subject will be the total focus of Day 3 of the Metrics Summit.