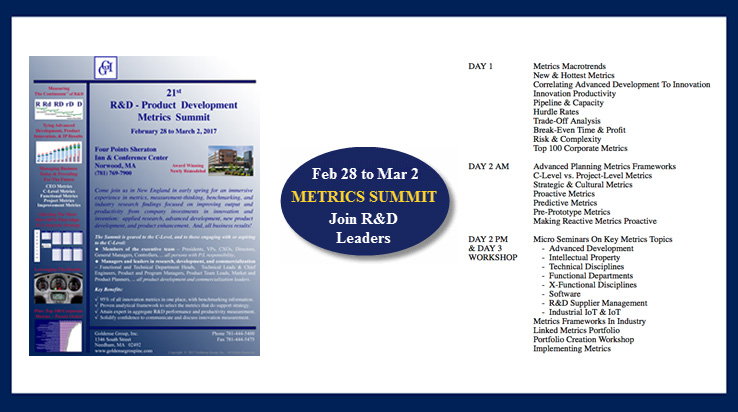 The 21st R&D-Product Development Metrics Summit is coming up, February 28 to March 2, 2017, in Norwood, MA. Our conference facility is equidistant between the Providence and Boston airports.  A comprehensive renovation was just completed last fall.   We are easy to get to, the place is beautiful, and the food is great!
New Micro-Seminar Added
Most important is the content.  We're adding a new section on IIoT and IoT metrics in the Workshop; and we're projecting that one or more of the metrics we're rolling out will be mainstream in 5-7 years.  We've done this before, several times.  The Internet of Things comes of age within two or three product cycles.  Does your company systematically "design-for-the-IoT?"  Can you measure it as an organization?
What's New
In addition to the IIoT and IoT, recent curricula additions of micro-seminars on metrics for advanced development and intellectual property inspired some alumni from GGI's initial Summits to return for an update. They were not disappointed.  Gen 6, 7, and 8 of advances in the science of managing R&D and product development have significantly changed the landscapes of process and metrics.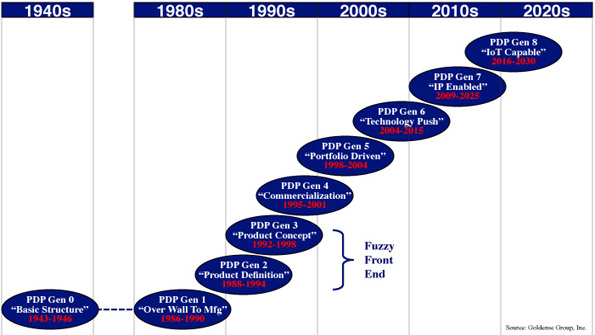 The Top 100 Corporate Metrics underwent a historic change during the prolonged recession. The Top 25 metrics are now in a different order.  Real innovation was way down, but measurement science progressed.  The specificity of measuring innovation rose.  Human Resources protocols opened-up in several ways, enabling performance metrics that were near taboo a decade and more ago.  Much more.
If you have not yet participated in GGI's Metrics Summit, please give it some thought.  If you're an alumni before 2012, we hope it is food for thought for you.  Pure innovation will be on the rise in the years ahead. We can see it restarting already!  Effectiveness, efficiency, and productivity initiatives will continue. These opposing goals are no easy challenge.  Are you using metrics to tease the best innovation, output, and productivity from your R&D organizations?
Participant Companies
We're honored that these great companies included GGI as part of their thinking for measuring R&D, product development, engineering, and scientific performance.
Two years ago at the 53rd R&D 100 Awards, some 15 of the winning companies had participated in GGI's Summits – including two of the actual winners who walked to the stage.  We hope this metric correlates for you.
More Updated Content
Just this past year alone, updates include a number of new CXO-level metrics that hit critical mass in 2015 and 2016. And, we have a fresh look at the Top 100 Metrics used in industry. The great recession created significant change in the metrics corporations now use to drive productivity and performance. This new information is statistically accurate.
Plus, with all that is going on the world, the science of measuring Risk is getting attention. Most companies, ERM system or not, have little actual knowledge of the business, portfolio, and product risks they face. We have taken the view of a CFO for the advances in risk science that we will be presenting.

Please Join Us In Early Spring 2017

Senior executives wishing to put themselves and their colleagues in a better position to direct and drive product creation and commercialization should strongly consider attending. Many participants have said, "this Summit covers everything an officer and senior manager needs to know on the subject of Metrics."
Please join us.  Most participants are surprised at the practical approaches and thinking they take away.
••••••••••••••••••••••••••••••••••••••••••••••••••••••••
TWITTER
GGI became significantly more active on Twitter in 2016.
No chit chat.
GGI Tweets content from our primary and secondary research,
140-character summaries of good articles in trade publications,
and announcements and recaps on GGI events and presentations.
A quick look?
Follow GGI on Twitter.
! THANK YOU !
https://goldensegroupinc.com/blog/driving-product-development/wp-content/uploads/2017/01/blog-metrics-summit-21-icon-738×412.jpg